Posts: 16,533
Before I moved to Montgomery County (aka Shopping Mecca), I lived right over
the border in Chester County.
There were several small towns where I lived that all were kinda alike.
All old steel and manufacturing towns on the banks of the Schuylkill River
Spring City
Royersford
Phoenixville
Mont Claire
Limerick
Linfield
Gratersford
Kimberton
Sanatoga
Parkerford
Fricks Lock
Limerick has a nuclear power plant, Phoenixville was the site of the movie THE
BLOB, Gratersford has a State Prison, Fricks Lock is a Ghost Town...
An abandoned mental hospital Pennhurst is just outside Spring City...and the river
runs thru it all and still has old locks and lock houses.
Just to set the stage for you mentally...
So while I was still living in the area, a few really strange things happened.
On July 17th, 1996 a TWA flight 800 just vanished into the sea over the
Atlantic, killing all 230 people on board. People say it was due to faulty gas
lines. I say it was due to someone shooting it down from the shores of NJ or
NYC...
Prior to Flight 800 exploding over the Atlantic, a few really odd occurances
happened that make me feel as if my area had ties to BOTH the missile downing
of Flight 800 and foreign and domestic terror.
Here is my story...
A few days before Flight 800 was struck down I was in my 3 story home in
Kimberton, Pa. It was about 7 or 8 pm...
I heard sirens going off in the direction of Mont Claire, they went on and on for
what seemed like hours...
Then my sons father came down stairs from the 3rd floor and said "Preesi,
theres been helicopters flying all over the town and beyond for a LONG time
tonight! Now they are over our house!"
I got up and went upstairs to look out over the town and sure enough there was
a helicopter flying over my house with its spotlight shining on my house for the longest
time.
I was suddenly scared to death thinking OMG someone escaped from Gratersford
Prison! I ran all over locking doors and windows and checking on our son.
I decided to call the cops to find out if I should be afraid!
I called the Police Station and she told me the Chief would call me personally
(HHHHHMMMMM!!!!!???)
Eventually the sirens and helicopters stopped and finally the Chief Of Police
called me...
"Ms Jones?" he asked
"Yes" I responded
"Ms Jones can you tell me exactly what you saw tonight?" he asked
""Well, I heard sirens and saw helicopters with spotlights for a..."
"Ms Jones you did not see or hear anything did you?"
"Yes, I just told you I saw..."
"NO!" he said sternly and emphatically, "YOU DIDNT SEE OR HEAR ANYTHING DID
YOU, MS JONES!?"
I suddenly felt VERY afraid! And just said "No, I guess I saw nothing" and left
it at that...
In the 2 days after the sirens and helicopters, I saw zero in the newspapers or
news.
Then Flight 800 blew out of the sky...

Years later I found THIS news story and picture above (written just 2 days after Flight 800 fell into the sea), ...



(source: "The Phoenixville Phoenix", July 20, 1996 issue)
The above photo, acquired through the generosity of "The Phoenixville Phoenix" editor Lynn Vander Burg, is the only know photograph of the incident. It was taken by Barry Taglieber.
The scene captured by photographer Taglieber shows the young camo-garbed men heading forward along the side of their truck, escorted by a local police officer. Portions of their cargo can be seen strapped on the bed of the truck. Upon the truck-bed, between the two Navy men, the fins of one of their devices can be observed. They appear to me to be white objects with stubby, swept-back, squared-off fins arranged in a cruciform shape.
If you have information or comments concerning the information contained in the above photograph or in the circumstances of the "Phoenixville Incident", please contact TWA 800 Case Files.

On the evening of July 19, 1996, two days after the crash of Flight 800, a rental truck was stopped in an "off the beaten track" street in Phoenixville, Pennsylvania. The truck was being driven by "two Navy officers" dressed in camouflage fatigue uniforms. A resident spotted the truck and thought the truck was transporting missiles and notified the local police of his concern.
The police took his report seriously and notified the National Guard which was put on standby. The "Naval officers" said they were traveling from the Willow Grove Naval Air Station to a site in Virginia and had rented a truck to transport the devices, which were identified as 'tracking devices'.
According to a follow up article in the Phoenixville newspaper ("The Phoenix") on July 23, 1996, officials at the Willow Grove Naval Air Station claimed to have no knowledge of the Naval officers, or any knowledge of a truck authorized to head to Virginia with equipment.
A Willow Grove spokes person said "That's really a strange route to take to Virginia." "Why would they be traveling in a rented truck? The government provides us with our own trucks." He continued "I don't think anyone here knows about it, but I'll definitely look into it."
Also, officials (unnamed) from the Philadelphia Navy Yards denied having any knowlege of the event.



The above was extracted and paraphrased from articles in:


The Phoenix Phone: (610)933-8926 Ext. 627
PO Box 689 Editor: Rita Cellucci (at the time)
Phoenixville, PA 19460-3449 Editor: Leann Pettit (present)

on July 20, 1996 and July 23, 1996

Nothing more has appeared in any newspaper regarding this incident. And as far as I know, the incident was not reported in any other paper - local or national. Was there a cover-up? Was this news story suppressed?
Interesting that the truck was carrying "tracking devices". A heat seeking air/ground, or air/air missle could be considered a "tracking device". Also the "tracking device" without a war-head could have created a spark when entering the fuel tank on the aircraft causing the explosion.
I also share the same questions that were put by the press to the unnamed official representing the Willow Grove Air Station.
Is this incident in any way connected to the downing of TWA Flight 800?
Many questions and no answers.

http://mysite.verizon.net/vze1zhwu/twa800.html
Then I moved to Montgomery County...
Right after we moved to Montco, the entire area from Limerick to Phoenixville
was struck by a domestic terrorist they called the Suburban Bomber...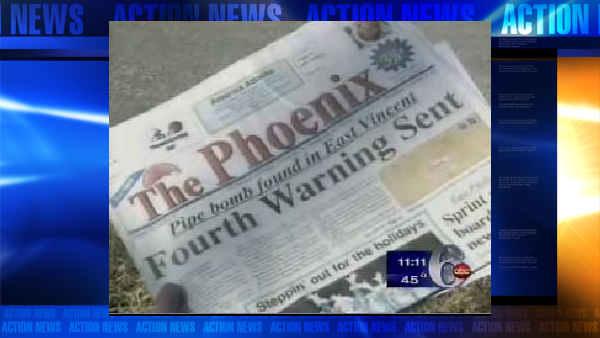 SUBURBAN BOMBER TIMELINE
MARCH 29, 2000 – 8:12 p.m.
A bomb blew up a car in the parking lot of Tarrytowne
Hardware, Schuykill Road, East Pikeland.
APRIL 8, 2000
Another bomb detonated and destroyed a vehicle
at Tarrytowne Hardware.
APRIL 27, 2000
A bomb detonated in a Dumpster in Gallagher's
Tavern parking lot, Schuylkill Road, East Vincent.
JUNE 8, 2000
A bomb destroyed a vehicle in the Ames department
store parking lot, Schuykill Road, East Pikeland.
AUG. 23, 2000
Bomb detonated and damaged a vehicle in the
Westridge Development, Westridge Drive, Phoenixville.
NOV. 8, 2000
Bomb found on the windshield of a parked car on
West Debbie Lane in the Quail Crossing development.
It did not detonate.
NOV. 28, 2000
A live device was found, but did not detonate on
Mockingbird Lane, Phoenix Mobile Home Park,
Schuylkill.
DEC. 12, 2000
A maintenance worker found three live devices at
O'Grady's Restaurant, Schuylkill Road, East Pikeland,
then carried them to Green Street, Royersford
before reporting it. No detonation.
FEB. 10, 2001
A bomb found at Our Lady of America Shopping
Center on Lewis Road, Limerick Township. Device
detonated by the bomb unit.
FEB. 10, 2001
A bomb found at a shopping center on Lewis
Road, Limerick Township. Device detonated by
bomb unit.






The cops and FBI developed a sketch of the Suburban Bomber...
Then on March 8th letters were sent to the Phoenix Newspaper and to Local ABC news
anchor Jim Gardner saying things like:
"3 more bomb in the Area"
"WE don't think there's any hope for this thing."
"A huge boom NEEDED."
"PUBLIC NOTICE 3 more bomb in the area surprises by 6-9 We're Tired and Lost."
"I.M. Waiting."
"I might have to wake people up."
Other parts of the Jim Gardner received letter reference people not living
morally and hinted at a bombing at Limerick Nuclear Power Plant if people didnt shape up...
Then it went quiet for the summer, then, September 11th, 2001 happened.
Then.....
NOV. 20, 2001
An explosive device was detonated by authorities
on Emory Lane, off Church Hill Road, in East Vincent twp, Pa







The entire area was scared to death for a year and a half. This is from an ABC Action News report from 2004
This past Spring another possible lead surfaced half a world away in
war torn Iraq. An FBI investigator who had been on the bomb task force was now
stationed in Iraq. He was sent to interview a young man being held prisoner in
Mosul. Something clicked when the prisoner told the agent he was from Chester
County. Like many others he somewhat resembled the most recent police sketch of
the suspect. The prisoner worked on communications towers, like the ones only a
hundred yards from where the last bomb was found. The young man was Nick Berg,
who would later be kidnapped and executed. The FBI went to the Berg family
home, along with an investigator from the Bomb Task Force. Could this be the
break they were hoping for? At the time, Michael Berg was concerned only about
his son's safety, and didn't pay much attention when they asked about pipe
bombs and his son's whereabouts several years earlier.

Michael Berg/FATHER "The FBI in Iraq asked him if he could make a pipe bomb.
And he said, 'Yes he could, of course he never would.' But he certainly was
capable of the electronics of it ever since he was a kid."

Michael Berg was eventually able to prove that his son Nick was attending
classes at the University of Oklahoma at the time of the initial rash of
bombings. Nick was released a week after the FBI questioned his family, and
after they filed a lawsuit seeking his freedom. He was later kidnapped and
beheaded by Islamic extremists. Michael Berg says he understands investigators
had a job to do and doesn't blame them for Nick's eventual fate. Last month he
met with the FBI in Washington. He wanted to know if his son had been
officially ruled out.

"I asked them the same question. 'Is my son, at this time, suspected of ever
having done anything wrong?' Those were my exact words. And they emphatically
said, 'No.'"






This is the reason they were REALLY interested in Nick (from Wikipedia)
On May 14, it was revealed that Nick Berg had been investigated during
the U.S. government's investigation of Zacarias Moussaoui. Berg's email address
had been used by Moussaoui prior to the September 11, 2001 attacks. According
to Berg's father, Nick Berg had a chance encounter with an acquaintance of
Moussaoui on a bus in Norman, Oklahoma. This person had asked to borrow Berg's
laptop computer to send an email. Berg gave the details of his own email
account and password, which were later used by Moussaoui. The FBI found that
Berg had no direct terrorism connections or direct link with Moussaoui.[7]







I dont buy it!
I think Nick WAS involved and had help.Look at the side by side!
I think Nick Berg was in deep. I question why Nick was supposedly walking
around Iraq during a war...Doing "antenna work" and trying to solicit work for
his company...Who goes to Iraq during the height of the war to be a door to
door salesman?
It makes no sense!
How was he allowed into Iraq without authorization?
From Nicks Wikipedia entry:
Berg was a native of West Chester, Pennsylvania, a suburb of
Philadelphia, where he owned his own company, Prometheus Methods Tower Service.
He inspected and rebuilt communication antennas, and had previously visited
Kenya and Uganda on similar projects.






I think Nick either Was dabbling in bomb making with friends and was recruited by the US or was recruited by the enemy...
I think he stumbled upon something in Iraq and they killed im for what he knew.

SOURCES:
http://en.wikipedia.org/wiki/Nick_berg
http://tinypaste.com/b9410
http://abclocal.go.com/wpvi/story?section=news/special_reports&id=6392779
http://www3.allaroundphilly.com/blogs/dailylocal/jenmiller/Suburban_Bomber1.pdf
http://www3.allaroundphilly.com/blogs/dailylocal/jenmiller/Suburban_Bomber2.pdf
http://abclocal.go.com/wpvi/gallery?section=news&id=6392774&photo=2
http://en.wikipedia.org/wiki/Flight_800
http://web.archive.org/web/19991023140534/http://www.multipull.com/twacasefile/septnews.html